Want to RENT in Pocono Country Place ?
Search Tobyhanna PA Vacation Homes for Rent - Pocono Reservations 800-805-3559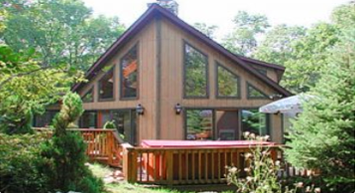 Pocono Country Place features two home rental options that cater to different needs.
The first option is vacation rentals, which are also known as Poconos short-term rentals. Interested Pocono Country Place renters can easily browse the available rentals (and local inns and hotels) located in Pocono Country Place for stays ranging from two to thirty nights through our affiliate site, Booking.com (The search box above). You can search for your ideal Pocono Vacation Home rental, reserve it, and receive an immediate confirmation.
On the other hand, if you're looking for a rental for longer than six months, you can opt for our yearly rentals.
Interested renters can contact an agent at USA Realty, who will guide you through the yearly rental process. This usually involves a credit check, work verification, and references. Please note that there is a fee for the credit check, and most times you will need to pay at least a one-month security deposit (sometimes 2 months).
Additionally, we provide comprehensive information for those interested in buying or selling in the Poconos. Our Poconos Real Estate website offers insights into the best places to live in the Poconos, advice on buying a Poconos home, a shortlist of short-term rental homes, and a list of Poconos communities (with available homes).
• The Best Places to Live in the Poconos